This fall, the CRI will launch our new high performance computing cluster, named Gardner. Available to all BSD/UCM researchers and their collaborators, the new cluster will allow us to accommodate more users and run analyses even more quickly and powerfully.
Gardner will feature:
2.0 GHz Intel Haswell processors across all nodes
Infiniband FDR interconnect (56 Gbps)
97 TFLOPs  Actual Performance (Rmax)
88 standard compute nodes (2464 total cores;  128 GB RAM per node)
28 mid-tier compute nodes (784 total cores; 512 GB RAM per node)
4 large memory nodes (112 total cores; 1.28 TB RAM per node)
5 GPU nodes with NVidia Tesla K80 GPUs
1 Xeon Phi nodes with 2 Knight's Corner coprocessors
350 TB Scratch Space
In addition to more computing power, Gardner will offer many improvements over our older cluster Tarbell, including more scratch space, the ability to use accelerators like NVidia GPUs and Intel Xeon Phi Coprocessors, and better integration with the CRI Stats Servers for running commercial software.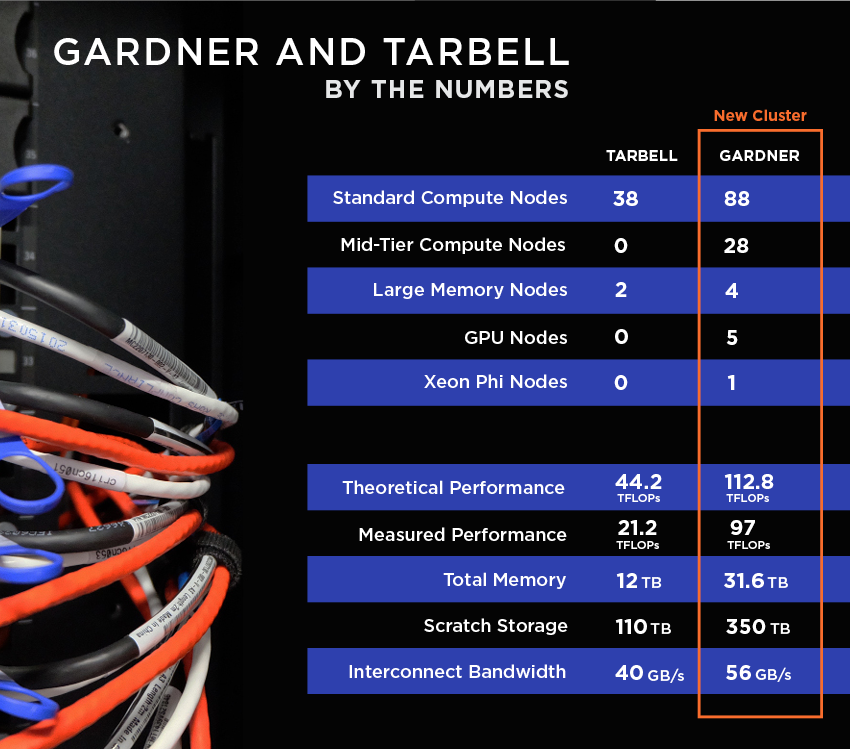 Curious about where our new cluster got its name? Martin Gardner, a University of Chicago graduate (SB 1936), was a popular mathematics and science author, magician, and puzzle enthusiast. His column "Mathematical Games" ran in Scientific American for 25 years. Our cluster's name honors Gardner's contributions to the field of computational biology and his lifelong work of making mathematics accessible and interesting for millions.
Our team will work with users of our Tarbell cluster to transition to the new cluster as seamlessly as possible. Whether you are a current user or just getting started with HPC, you can learn more about the new cluster at a free session on October 6.